Biking downhill today, the wind blowing through my hair, music running through my iPod into my ears and through my brain, I thought, "Why don't I post a recipe on my blog?" I like food. I like cooking. So here is one of my favorite recipes: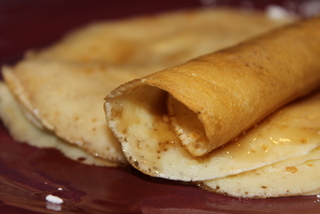 Norwegian Pancakes (rolled like crepes—makes 10 to 12)
2 c milk (may need a little more if batter is thick)
2 T melted margarine or oil
Beat together the eggs and half of the milk.

Add flour, salt, and sugar.

Mix in the rest of the milk.

Add more milk of too thick.

Pour 1/3 c batter into hot buttered shallow pan.

Pick up frying pan to spread batter in pan.

Once the outside edges become solid and the bubble break, the pancake is ready to turn.

Cook until both sides are lightly browned.

Immediately roll warm pancake and leave with seam side down.

When ready to serve, put a filling inside the pancakes and re-roll.

Serve warm or cold.
Suggested toppings: whipped cream and cinnamon sugar (or strawberries), powdered sugar, jam, peanut butter, fruit syrup…
Hey, I never said it was good for you. Except it tastes good, and if you add strawberries, it's practically healthy! Plus--look! Whole wheat flour!