I admire a lot of women. My mom, of course. Grandma Hart and Grandma Williams. My sisters, aunts, cousins, friends. Our pediatrician is a woman. My two favorite college professors are women. And even though I'm surrounded by cute boys all the time, I've got all my author-friends who are women to help even out the gender score at our house.
There's Marilynne Robinson and Madeleine L'Engle. Patricia Wrede and Patricia Coombs. Holly Black and Ursula K. Leguin and Barbara Kingsolver and Virginia Woolf and Margaret Weis and Robin Hobb and Amy Tan and Harper Lee...
Well, you get the idea. Women are worth celebrating, and those brave enough to send stories out into the world are the ones I thought I'd celebrate today. Yay for mothers! Yay for authors! Yay for books I can fall in love with!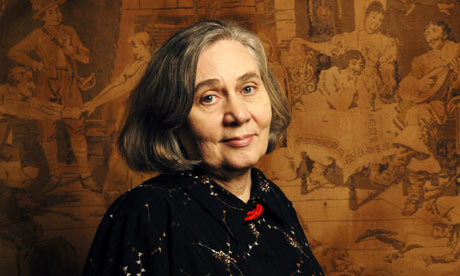 Marilynne Robinson, from this article. It makes me want to go reread Housekeeping...which I will do before Baby milkivore wakes for another snack!